Western Agricultural Industry
Survey - 2016
---
---
In early 2016, the idea for the Agricultural Industry Survey originated from a similar effort administered by a group of Colorado Extension Specialists. Members of the Western Extension Committees (WEC) on Farm Management and Marketing, made up of Extension economists from 13 Western States, Guam, and the U.S. Pacific Islands then initiated a survey specific to agriculture in the west. The survey invitation was emailed to the WEC membership who distributed it through Extension contact channels.

Below, please find the results of those efforts. We sincerely hope you find them helpful to your work with agricultural clientele across the west and elsewhere.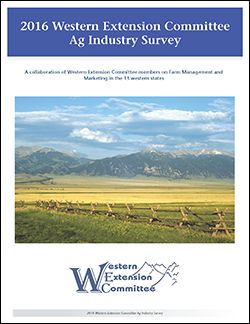 This report has been created using a technique that allows users to click on key items as hotlinks. That is, the Contents, Figures, and Tables lists are clickable. Clicking on a linked item link will change the document view to that content, figure, or table. Table references within the text have also been hotlinked for easier document navigation.
2016 Report Authors:
John Hewlett, University of Wyoming
Kate Fuller, Montana State University
Stuart Nakamoto, University of Hawaii
Shannon Neibergs, Washington State University
Kathleen Painter, University of Idaho
Clark Seavert, Oregon State University
Dawn Thilmany, Colorado State University
Hernan Tejeda, Utah State University
Jo Ann Warner, Washington State University
Savannah Noray, Montana State University
Members of Western Extension Committee who helped solicit input and circulate to clientele in the 13 western states
Adobe Acrobat Reader is free, and freely distributable software that lets you view and print Portable Document Format (PDF) files. Click here to access a copy.
---